UpStateNH.com



NH Moose Lottery Winners Chosen
Several Local Winners


Twenty-One North Country residents to be offered moose hunting permits. Find out who won here!
more
►

Get Muddy - Have Fun!
Loon to Host 5th Annual Monster Mud Run
Loon Mountain Resort will host the 5th Annual Monster Mud Run on July 11, a filthy 5k featuring dozens of fun and challenging obstacles, miles of shoe-sucking mud, and a Mini Monsters race for kids.
more
►
USDA Announces Rural Development Value-Added Producer Grants
VT & NH Farmers encouraged to apply.
The grant program provides farmers with up to $250,000 in working capital or feasibility funding to turn raw agricultural products into finished products that increase producer profitability and create jobs.
more
►

Can Your Group Use Some Money?
We explain and explore various funraising strategies.
The way we see it, orgaizations have 7 basic ways of fund-raising. We explore dues, soliciting donations, auctions or raffles, direct sales, corporate sponsorship, grants and events. Hang on to your seat!
more
►

NH Outdoors-Woman Workshop Offered
Event to be held September 11-13, 2015 at Rockywold/Deephaven Camps on Squam Lake.
Participants select sessions from more than 30 different outdoor skills workshops, ranging from archery, fishing and fly-fishing to camping, field dressing game, hiking, kayaking, rifle, shotgun, nature photography, outdoor survival, campfire cooking, mountain biking, map and compass, and much more.
more
►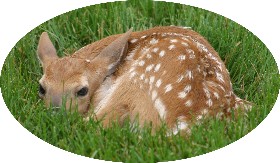 NHF&G Urges You To Leave Young Wildlife Alone!
The best chance a young wild animal has to survive is in its natural environment under the care of its mother.
Well-intentioned individuals often see fawns or other baby animals alone, assume they are abandoned, and take them in to "help" them. Most of the time they are removing the young from the care of its mother, who was waiting to return.
more
►

Is It Time To Consider Cable TV Advertising?
Ever wondered? Here's what you need to know!
Cable TV does work, but you have to creatively engage your target demographic with an appealing idea or offer. Check it out!
more
►
NH Safe Hike Cards Offered
This card may save you thousands of dollars if you need to be rescued.
Voluntary Hike Safe Cards are available from the NH Fish and Game to support Fish and Game search and rescue efforts and be exempt from liability for repaying search and rescue costs in New Hampshire (unless caused by reckless or intentional behavior.)