Vertical Ventures Aviation
Mount Washington Regional Airport
5 Airport Road, Hangar 16
Whitefield, NH 03598
www.flyvva.com
(603) 616-9246
Have you ever wanted to take a White Mountains scenic flight? Now you can. And don't let a trip to Whitefield discourage you. This bird can nest almost anywhere.
Serving the entire North Country area from any of its many small airports,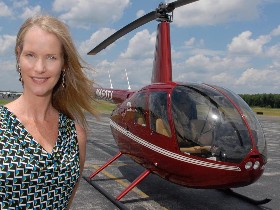 Vertical Ventures can bring you that bird's eye view that your friends can only dream about, all from the air conditioned comfort of a nearly glass-surrounded cockpit.
Colleen Chen, owner and senior pilot for Vertical Ventures Aviation has logged over 6,100 hours aloft, and still hasn't lost her love of being airborne. A NH native, she knows the seasons and the geography to help you get the most out of your scenic flight. Deer, moose and bear are sometimes spotted, but the lakes, mountains and fall foliage are always more fun from a big bird's eye view. She delights in providing White Mountains scenic flights!
Give them a call or go to their
website
for prices and more information.