Groton is a small town of about 450 people, located just west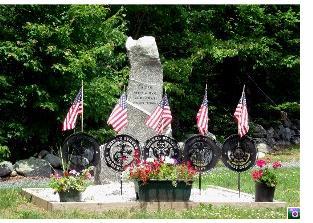 of Bear Mountain, I-93 and Route 3-A and home to the
Sculptured Rocks Geologic Area

. The small gorge was reportedly created 12,000 years ago at the end of the Great Ice Age. However, most people enjoy it as a small series of great swimming holes.
The town was originally called "Cockermouth," but had the great wisdom to change its name. It was the location of several mica mines. Mica was used to produce a foil that was used instead of glass in windows, and punched and stamped into lightweight household items, and is a component of old-fashioned drywall.
The
Sculptured Rocks Inn
, 363 Sculptured Rocks Road, is a farm and country inn on the banks of the Cockermouth River.
Dining and additional lodging is available in
Plymouth
(about ten minutes).