The town of Hebron sits on the shores of Newfound Lake, near Route 3-A.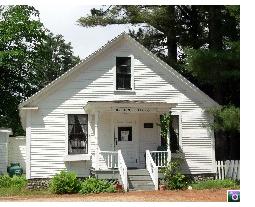 The town is scattered in clusters at various points along the waterfront. This one has to be in the top ten for cuteness.
Newfound Lake is praised for its cleanliness, and its picturesque setting. It is said to be free of milfoil-an invasive plant species that blocks the sunlight needed by other aquatic plants. Newfound Lake is one of New Hampshire's deepest: up to 168 feet deep in spots.
The
Newfound Audubon Center
on North Shore Road, gives naturalist tours for children and adults. They have canoe & kayak rentals, programs for birders, instructional programs for school-aged children and offer their facilities for weddings and other functions. There are also trails that pass through marsh, lakeside and forest environments.
The
Coppertoppe Inn & Retreat Center
, 8 Range Road offers stunning views. The builder of the property had the foresight to construct each room with a great view, with ten foot ceilings and huge windows.
Dining and additional lodging choices are available in the nearby towns
Bristol
, and
Plymouth
.
With lake views and mountain scenery, Hebron is a great little town.