At our request, our friends at
Toby.com
offer these thoughts and dresses for your summer wardrobe:
Short summers and long winters in New Hampshire can mean summer outfits don't look quite the same as our southern state neighbors. Ideal summer dresses for northern New Hampshire require layerability, fabrics & lightweight construction, comfortable silhouettes, and cool tones like blue, cream, white, and other pastels. Dresses in varying hemline and sleeve lengths, IE: a short dress with long sleeves or a maxi dress with thin straps, transition well from the mild heat and humidity we experience during the day to our cooler temperatures in the evening.
The Tunic Top
Hidden within a long tunic top is a summer dress just waiting to be discovered: just short and breezy enough to feel like summer. A draped body, crochet panels, and open slit sleeves at ¾ length provide comfortable, all-day wear and breathability for the heat. A long tunic can be worn with jeans in the evening, shorts during the day, or as a dress with a comfy pair of heels to take from daytime activities to nighttime events.
The Maxi Dress
A maxi dress offers a dramatic amount of coverage, oftentimes right up to your heels. For the summer, a draped silhouette in rayon is ideal. Rayon wicks away more moisture than cotton, is highly breathable, and dyes easily (which means more color options for your personal style). A lightweight but billowy maxi dress with spaghetti straps, slight high-low hemline, and intricate pattern makes for the perfect casual cool summer dress.
The Shift Dress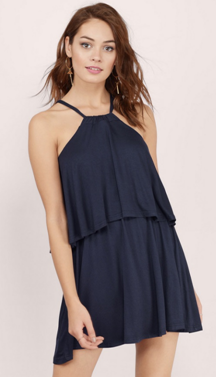 A simple shift dress was made for summer dressing. Casual dresses with swing hemlines stay breezy even in darker, modern hues like navy blue, and pair well with a light denim jacket for the evening. Dress up the effortless silhouette with updated details like a halter neckline or a two-tier body, which keeps you cool and comfortable all throughout the season. Try a shift dress in fabrics that create a relaxed fit, like a mixture of rayon and spandex.
Posted 7/11/16