When Laurie Roy of Berlin planned a family trip to Walt Disney World in Florida she worried about finding dairy free meals that her lactose intolerant seven year old granddaughter would eat. Daunted by imagining the preparation of such dishes while traveling, Roy consulted a travel agent. The travel agent not only arranged for special meals, but also scheduled dining experiences at a variety of restaurants to prevent a little girl's boredom. "Here we are at this enormous park, and when we arrived at one restaurant, the chef arrived to greet us!" This is but one of the services a good travel agent can provide.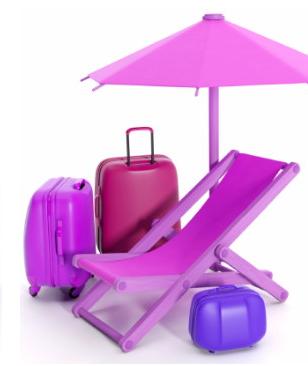 With sites like Orbitz, Expedia and Travelocity gaining popularity, many people no longer think they need travel agents. If your plans require no special needs and no local information, this may be true. However a travel agent can look at numerous sites at once and numerous different resources, and often minimize connections, layovers and other time wasting activities. "Travel agents can see behind the scenes" says Laura Blundo of Travel International in North Conway. "Our eyes go deeper into available choices of resorts, not just airlines. We are a very connected community, and people are our customers. You're not just a number to us, we are personalized professionals."
The number of "brick and mortar" travel agents has declined. According to CNN, "In 1995, there were 37,000 brick-and-mortar travel agencies, according to the American Society of Travel Agents. Now, only 18,000 exist after many merged or folded." Don't think of travel agents as dinosaurs, think of them as a neglected, but rich resource that can assist you. "I have 21 years of experience in this industry, and all the people, other professionals I've met along the way have added to my knowledge," says Laura Blundo.
Despite their slow demise, travel agents may have some tricks up their sleeve that you may not know about. For example, travel agents can change or cancel a flight with no penalty fees, in many cases. They may also have connections with other travel agencies, including those based in your destination.
It's one thing to book a flight to Baltimore to attend a wedding. It's another when you are incorporating a multi-destination trip. Not only is the cost of the flight a factor, the lodging is a huge factor, especially on a lengthy trip. A recent CNN Travel article stated "What the Internet has done is given us a nation that knows the price of everything and the value of nothing." Yes, your hotel may look great on the pictures displayed on the web, but the experience in the hotel may be far worse than you expectations.
The general rule is this. The more activities you want to include in your trip, the more you need a travel agent. A trip to Africa will be better with a safari tour. A trip to France will be even better with a day in the vineyards. An experienced travel agent can get you access to the places you might not even discover without their help.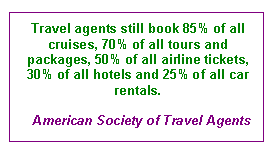 The other value of travel agent is peace of mind. Travel today is full of unexpected fees and regulations. If you want to avoid these, a travel agent can investigate, and provide answers to question related to excess baggage fees, and international traveler requirements.
In a weather emergency, wouldn't you rather call your travel agent than to wait for hours for a ticket agent at your airline's 1-800 number? Wouldn't you like to make one phone call, than returning repeatedly to a crashed website for your airline? "Travelers might experience horrific things, related to the weather.. and otherwise. We had a family that traveled to a destination on the Mexican Riviera, and those who booked with us made it on time, the others didn't, doing the best they could with their own devices," says Laura Blundo. "With a travel agent, you have a name and number. One call and it's done. Would you rather call an airline and press 1 for this and 5 for that?"
The fear of fees often deter people from calling a travel agent, but shouldn't. Agency fees may differ, but should be something like this: $35 per person for roundtrip flights up to $700, 5 percent per person for roundtrip flights over $700. The discounts afforded to travel agents may equal the cost saved by booking online, even with the additional fee.
Don't dismiss travel agents in the same category as rotary phones and typewriters. They are a great resources that should be used for anyone with special needs, multi-city trips and international travel. They are also a good idea if you anticipate your itinerary may need to be changed because of family illness, weather or business needs.
"We offer peace of mind. You have a contact, a connection," says Laura Blundo. "Remember local agents support the local economy."