Meeting and surpassing your preconceived ideas of New England charm, Sugar Hill sits just west of
Franconia
, and south of
Littleton
. "What I think makes our town different is our spirit," says Kitty Bigalow of the Sugar Hill Historical Society. "We're a town of about 800, with 500 voters, we've bonded with each other. We will pull together to help each other." And don't forget the commanding views of Cannon Mountain and the White Mountains to the east.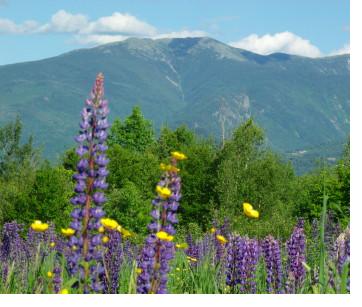 New Hampshire's second newest town was incorporated in 1962 (Hart's Location was incorporated in 2001), although it is the location of the oldest nine-hole golf course in the state. A favorite of actress Bette Davis, Sugar Hill has served as a hideaway for other notables.
Sugar Hill is famous as host for the
Annual Celebration of Lupines
held in June each year. The communities of
Bethlehem
,
Easton
,
Franconia
,
Lisbon
,
Littleton
, and Sugar Hill join together to leverage the annual event, but Sugar Hill has the traditional site. Tons of blossoms, dozens of vendors, good food, great music, artisan demonstrations, and evening of dance make this an annual event for many.
The
Sugar Hill Historical Museum
is open from mid-May through mid-October, and offers insights into life in a close-knit mountain community. Exhibits include an early
tavern kitchen, a sleigh, a horse drawn hearse, old fashioned cameras, memorabilia and a massive collection of old hand tools. Nearby
Harman Cheese and Country Store
offers gift items and New England memorabilia.
Dining includes
Polly's Pancake Parlor
. This restaurant is appealing to both children and adults, and offers a homey atmosphere and incredible scenery.
Sunset Hill House
bed and breakfast, located about a half mile off Route 117 is an award winner for "best views" by
Yankee Magazine
. It offers a pool and a small golf course. The
Victorian on Sunset Hill
, (about three miles off I-93) was built in 1789, offers great views and sumptuous surroundings, and their restaurant is highly rated.
The town of Sugar Hill offers charm, scenery and spectacular views. As Kitty Bigalow states, "We have great sunrises and sunsets, here. That's just two of the many things that make us special."